After a pullback, we expect price to rest right around a support area.
We might see price dipping a percentage or two below the support area. We might also see lower shadows (buying signals). However we want to see price closing right around support level.
So in this scenario, where would we put our stop loss?
Stop losses are very personal. They vary depending on the type of strategies people use and the risk level they wish to take. Usually it is not recommended to risk more than 2% in any given trade.
For example if you enter a position at 15.25, your stop loss should be somewhere around 14.90-14.95. Also bear in mind that you could have 1/2 position stop loss at one level and 1/2 position stop loss at a lower level.
After you know what your risk is, you also want to pick a place where it makes sense to place a stop loss, not just a mere percentage. Look for an area of support and resistance. Then place your stop loss just a few pennies below the low price of the previous 3, 4 or 5 days.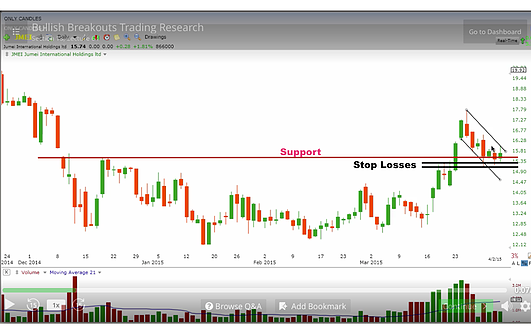 In the above image after the pullback we see price resting right around 15.25-15.50 (support area). You might want to place stop losses just a few pennies below the low price of the previous 3, 4 or 5 days.
Good Trading!
Trading Risk Disclaimer
All the information shared is provided for educational purposes only. Any trades placed upon reliance of SharperTrades, LLC are taken at your own risk for your own account. Past performance is no guarantee. While there is great potential for reward trading stocks, cryptos, commodities, options, forex and other trading securities, there is also substantial risk of loss. All trading operations involve high risks of losing your entire investment. You must therefore decide your own suitability to trade. Trading results can never be guaranteed. SharperTrades, LLC is not registered as an investment adviser with any federal or state regulatory agency. This is not an offer to buy or sell stocks, cryptos, forex, futures, options, commodity interests or any other trading securities.