A few days ago someone on Quora asked me what has been my experience using Japanese candlestick charting analysis.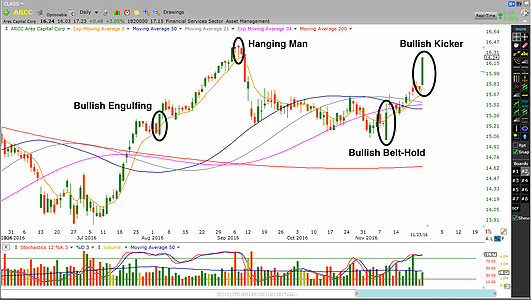 I love Japanese Candlesticks. In my opinion Japanese candlesticks are very effective when combined with other indicators (moving averages, volume activity, ichimoku) as well as key levels of support and resistance (horizontal and diagonal lines).
Like anything in life, those who are looking for the magic pill, will have hard time finding it. Trading is the same. There is not one single method that works, but rather a combination of techniques and strategies that meets the trader/investor needs.
Start by figuring one what kind of trading strategies work best for you (day trading, swing trading, position trading, long term investor…).
Get some good quality trading education (articles, books, videos…)
Learn good money and risk management.
See what type of trading assets, or combination of trading assets, work best for your portfolio (forex, stocks, options, ETFs, commodities, bonds…)
Open a trading account with a broker that offers a simulator, so that you can practice trading using paper money (virtual money).
Once your strategies start making some money paper trading, then move onto trading real money.
Keep you trades small, at least at first.
When trading, don't think about how much you are going to gain. Rather think how much you are going risk, and potentially lose, if price moves against your prediction.
Got a question? Write to us
Good Trading!
Trading Risk Disclaimer
All the information shared is provided for educational purposes only. Any trades placed upon reliance of SharperTrades, LLC are taken at your own risk for your own account. Past performance is no guarantee. While there is great potential for reward trading stocks, cryptos, commodities, options, forex and other trading securities, there is also substantial risk of loss. All trading operations involve high risks of losing your entire investment. You must therefore decide your own suitability to trade. Trading results can never be guaranteed. SharperTrades, LLC is not registered as an investment adviser with any federal or state regulatory agency. This is not an offer to buy or sell stocks, cryptos, forex, futures, options, commodity interests or any other trading securities.